Blue hair is not a new trend, but it has recently gained popularity. While some may shy away from such an eye-catching shade, those who dare to wear blue hair often find that it brings out their unique personality in a beautiful way. So whether you're looking to switch up your style or want to know more about this trend, read on for everything you need about dark blue hair.
Blue hair options for a bold look
There's something about dark blue hair that is both alluring and mysterious. It's a color that can be striking and subdued, depending on how it's worn. Dark blue hair is often associated with sophistication and glamour, but it can also be playful and edgy. So whether you're looking to make a statement or want to try something new, dark blue hair is worth considering.
If you're thinking of going dark blue, you should keep a few things in mind. First, finding the right shade of blue for your skin tone is important. If you have fair skin, you'll want to avoid any shades that are too bright or vibrant, as they can wash you out. Instead, opt for a darker, more muted blue. If you have medium or olive skin, you can go for a brighter shade of blue without worrying about looking washed out. And if you have dark skin, you can rock any shade of blue – the darker, the better!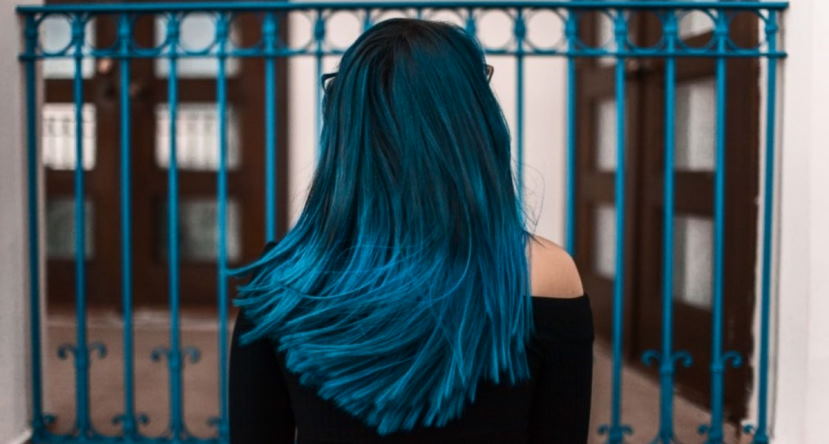 Once you've found the perfect shade of dark blue hair color, it's time to start thinking about how you want to wear it. Dark blue hair looks beautiful when worn in sleek, straight styles – think Olivia Palermo or Blake Lively. But it can also look stunning when worn in loose waves or curls, like Jessica Alba or Jennifer Lopez. If you're not sure how to style your new dark blue hair color, consult with a stylist who can help you find the perfect look for you.
How to dye your hair dark blue: a step-by-step guide
If you're looking for a way to change up your look, dyeing your hair dark blue is a great option. It's a bold color that will make you stand out from the crowd and is also surprisingly easy to achieve.
To get started, you'll need:
Blue hair dye
Shampoo and conditioner
Gloves
A bowl or cup
A spoon or brush
Here's how to do it:
Start by shampooing and conditioning your hair as you normally would. This will help to ensure that the dye takes evenly.
Next, put on your gloves and mix the hair dye according to the instructions on the package. If you're using a powder dye, mix it with water in a bowl or cup.
Once the dye is mixed, apply it to your hair, starting at the roots and working your way down. Use a brush or spoon to help distribute the color evenly.
Let the dye sit for the recommended time before rinsing it with warm water.
Follow up with a conditioner to help keep your hair healthy and hydrated.
And that's all there is to it! You can easily achieve a beautiful dark blue hue with just a few simple steps.